I was fortunate to have spent three years living in Paris in the late 1980s, and Rue Daunou featured often in my life there.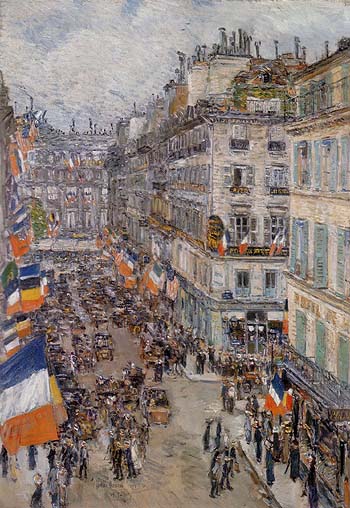 American Impressionist Childe Hassam's, July 14 Rue Daunou. Painted 1910

Rue Daunou is in the Opera District of Paris. There was a "biologique" grocery store, a popular Korean Barbeque restaurant and, the American ex-pats' favorite watering hole, Harry's Bar with its famous address spelled out for the benefit of us poor anglophones -"sank roo doo-noo" - all within a few yards of each other.
The street is, of course, rather better known to Americans from Childe Hassam's 1910 painting; July 14, Rue Daunou. The painting captures the "Bastille Day" celebrations in Paris, a portent of the iconic flag theme that defined his late career.
Childe Hassam was a noted Francophile and was undoubtably influenced by Impressionist painters, first visiting Europe in 1883 and taking up studies at the Acedemie Julien in 1886, where he was would have been exposed to the works of Monet, Degas and Caillebotte.
I like the painting on several levels. It takes me back to cocktails and friends in Harry's Bar, but most of all I like the painting itself; the internationalism of the flags (a Stars and Stripes is clearly visible), the typical Parisian buildings with shops below and elegant apartments above and the refined, yet still somewhat chaotic crowd in the street below.
I hope you like it - and if you are ever in Paris why not take a walk along Rue Daunou followed by a cafe and indulgent patisserie at the Cafe de la Paix, nearby.
Museum quality Childe Hassam reproduction paintings - especially his "Flag Series" - are a perfect gift idea for any American living outside the States who wants a reminder of home. Soho Art offer his entire portfolio, hand painted on 100% canvas linens in Winsor and Newton oils. The paintings can take as long as 8-9 days for our artists to complete, with delivery usually possible within 14-18 days.