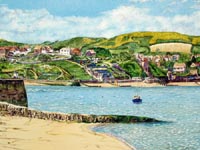 Janet Saker, a remarkably sprightly lady, now in her seventies from in Hampshire, England, came to us asking for advice on finding a small reproduction landscape painting of the Swanage area of Dorset, UK.
She had been evacuated to that picturesque part of South West England, near the coast as a child in 1940, during World War Two, together with her school friends from Catford in South East London. At the time it was normal for British children to be sent to stay with total strangers in the countryside, to escape the German "Blitz" bombings that were launched nightly against London town. Janet told me how she was sent of with her friends on the train, complete with a gas mask in a box and hand written ID labels on cords around the children's necks.
I was delighted to help her select a small canvas of Swanage Bay with an inscription for her school and life long friend, Margaret, as a very special 75th birthday gift. Janet recalls spending happy long-gone days with Margaret at the seafont in Swanage before evn her tenth birthday. I can only imagine how it must have felt to have been separated from their parents back in London.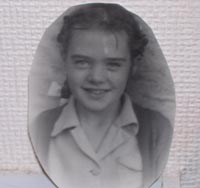 Janet has kindly allowed my to share her story and picture on this blog. As a thankyou from the team to a remarkable lady for sharing this story with us,  a charcoal on canvas portrait of Janet as a child is now on its way to Hampshire, England with our compliments.

Janet as a war-time evacuee.